by Sigrid Salucop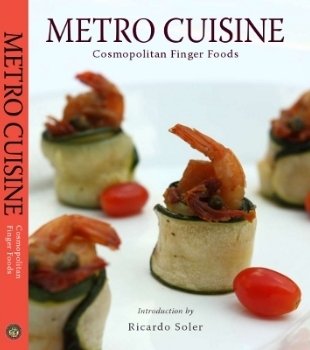 Describing UPAA Singapore's Metro Cuisine book as a wonderful guide for making cosmopolitan finger foods is an understatement. Full of beautiful photos of rather mouthwatering finger foods, the cook book is unlike your regular book of recipes.


As Philippine Ambassador to Singapore Minda Calaguian-Cruz said in the book's foreword, "In the 40 years since the Philippines and Singapore first established bilateral relations, the ties that bind our two states have gone far beyond diplomacy, reflecting the longstanding historical relationship between our peoples and cultures."


Metro Cuisine is of value to people who love to cook but it proves to be far more valuable than what many would expect because the book itself is a symbol of Philippine-Singaporean camaraderie as well as friendships between Filipinos and other peoples of the world. The book shows that food and the preparation of it although not particularly special but rather mundane is still something universal, something that binds all of us no matter where we are or where we are from.


The food that one prepares is not merely food, every dish has its own history, its share of local stories on how its recipe came to be what it is today, and how this very dish is remembered by our loved ones or how we ourselves remember it and how that same dish is prepared differently from one home to the next. Call this comment bittersweet but one has to admit that it's not just good food that food lovers and home cooks alike love –it's the love that one puts in the preparation of it and the love that revolves around the consumption of it.
Food nourishes us and also nourishes the soul in a way. To an anthropologist on the other hand, the food we prepare speaks volumes about us –our culture, our history, our influences, the friendships we have cemented over the years, the reasons as to why one has to use a certain ingredient instead of using another even if the other ingredient basically has the same effect on the food being prepared –all of these details, although trivial to some, are not only interesting but also makes one realize that in every dish prepared for us or in every dish that we prepare –there will always be a story behind it and usually these stories merge with other stories making things more interesting - giving more meaning to the food we eat.


Metro Cuisine brings to you all these plus a number of dazzling photos that will definitely whet your appetite. From a lovely smoked salmon dip served with potato crisps to a plate of potted tuna or vegetables served in smoked bangus dip that reminds us of the Filipino affiliation to the sea to something very Hispanic such as the book's recipe for beef, black beans, and corn nachos. The food lover will definitely go crazy over this book. What makes this cook book extra special is that some of the recipes it contains have been passed on from one generation to the next while others are personal favorites of UP alumni.


Reading this book is a delight and 4, 420 minutes and over 2, 000 servings of beautifully crafted finger foods later, you can be sure that you have already mastered quite a few recipes and can now host a party without worrying how your appetizers will come out.


The recipes in this book range from those that only need 10 minutes of preparation to those that need up to 8 hours of waiting time. One has to take note that the recipes contained in Metro Cuisine do not only showcase Philippine-inspired or Singaporean-inspired recipes but also has a number of recipes from other places in the world – from finger foods with Middle Eastern flavors to Russian favorites, this book has a select, easy-to-cook recipes fit for those who just love to cook. Much like any other cook book, you do not need to be a chef to make these delightful finger foods, you only need to follow instructions.


Food lovers looking for Filipino finger food recipes won't be disappointed too because you would find recipes of Filipino favorites such as the uber tantalizing puto pao, the ordinary-looking yet very tasty carioca, purple yam turned into a tart with whipped cream and pili nut toppings, yummy maja blanca, and biko with jack fruit among other Philippine culinary delights.


Overall, this cook book is a good buy. If you've been wrestling with appetizers or have been preparing the same, boring finger food for years, it may be time to grab a copy of Metro Cuisine.