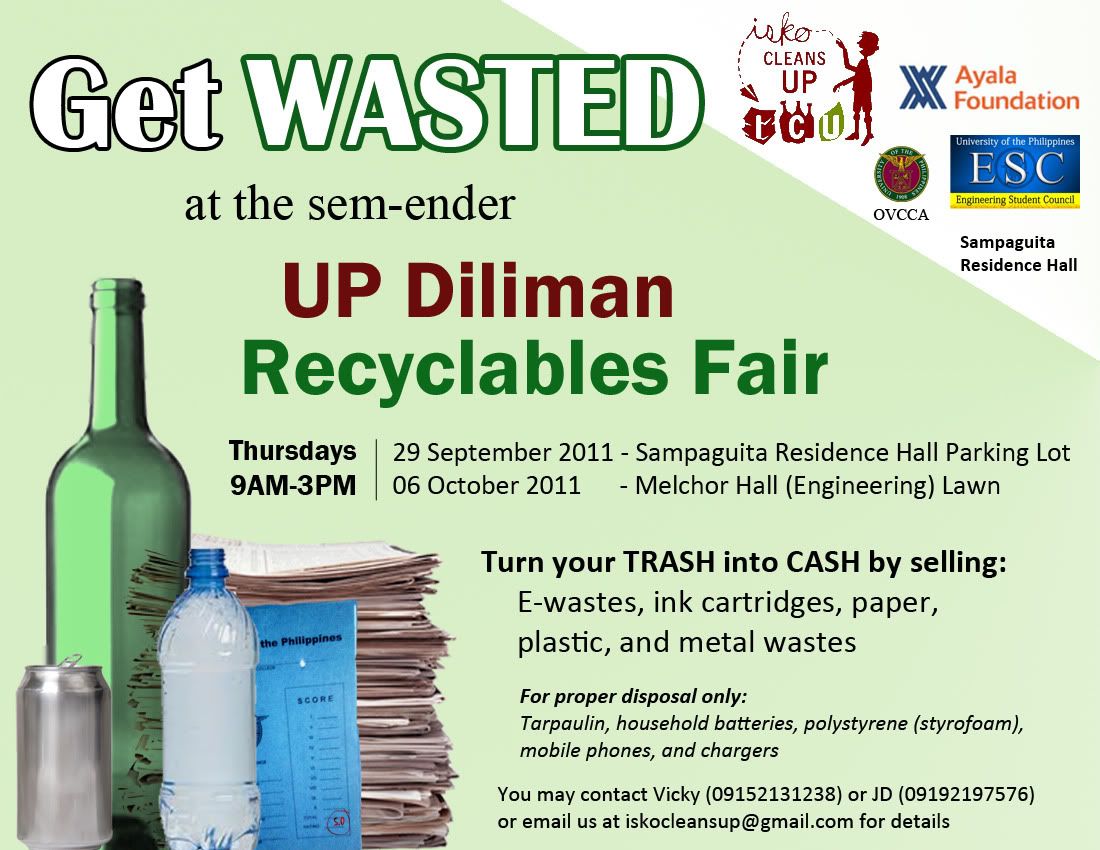 Isko Cleans UP and Ayala Foundation invite you to turn your TRASH into CASH
in the sem-ender UP-Ayala Recyclables Fair
Thursday, 29 September 2011 - Sampaguita Residence Hall Parking Lot
Thursday, 6 October 2011 - College of Engineering, Melchor Hall Lawn - with the Engineering Student Council (ESC)
9AM-3PM
You may sell the following items:
E-wastes, ink cartridges, paper, plastic and metal
For proper disposal only:
Tarpaulin, household batteries, polystyrene (Styrofoam), mobile phones and chargers.
Join the Isko Cleans UP Facebook page for the price list and latest updates.
* This event is open to ALL, including non-UP students.
UP Isko Cleans UP (ICU) is a student-led movement supported by the Office of the Vice-Chancellor for Community Affairs and student organizations. Its main objective is to turn the University of the Philippines-Diliman, the flagship campus of the premiere state university, to be a zero-waste, self-sustaining campus by June 2011. This project is based on the Ecological Solid Waste Management (SWM) Act (Republic Act 9003).
For inquiries, please contact JD at 0919-219-7576, Vicky at 0915-213-1238, or email iskocleansup@gmail.com.
Site:
http://annaoposa.ph
Facebook:
http://www.facebook.com/annaoposa
Twitter:
http://www.twitter.com/annaoposa
Skype: ahnnabanana